Aluminium Haustüren kaufen Online-Haustüren Konfigurator bei Welthaus
WeltHaus Door 

ALU 90 system

 Aluminium 100%.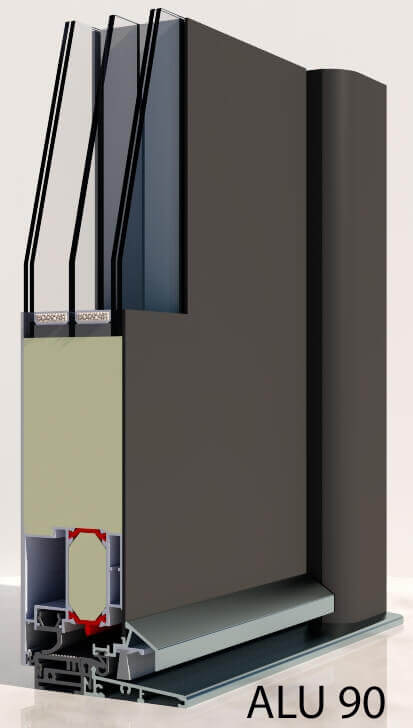 ALU 90 system is 100% aluminum.
ALU 90 System are our standard doors made from a combination of full aluminum profiles system + aluminum door panel, covered inside and outside.
The advantages of ALU 90 system:
- high mechanical stability;
- high thermal insulation;
- 3 seals in the whole door frame;
- available in all models;
- different colours and combination colours possible. Matt powder coated fine structured colours!
- inside and outside in RAL colour (of choice) powder coated. Standard- in the same main colour inside and outside or on request you can  choose different colours;
- one of the newest automatic multi-point hardware in the world, with several innovation, Winkhaus - AV3;
- 3D- dimensional adjustable Rollhinges.

Fakten:
Date about ALU 90:
- Ud value of the door to 0.88 W/m2K.
- Safety up to RC2.
- Soundproofing> 36 dB. 
    ALU 90 are our standard full aluminum doors system, made in special very strong aluminum, with a total depth of 90 mm.
The frame:
- exclusive design;
- the aspect is very beautiful with round corner, powder coated in the desired color;
- frame depth is 83 mm; 
- the aluminum threshold is 20 mm height and 95 mm depth with 2 seals and 1 brushes. 

The sash:
- is a monoblock with aluminum plates covered inside and outside - which ensure a high stability for a long period of time;
- the door panel is a combination of several insulation materials, so that the entire single-block becomes a very stable structure with a depth of 66 mm;
- 3 layer laminated safety glass Ud 0,5 / 43dB standard frosted glass;
- the decorations are made of satin stainless steel. 
Standard in the price:
- different colors and combination colors possible. Finely textured powder coated colors (Matte)!
- 3 Seals in the whole door frame;
- Aluminum threshold thermal separately 20 mm height, with 2 seals and 1 brushes;
- AV3 Mechanical - Automatic locking system with Winkhaus daytime;
- 3D-dimensional adjustable Rollhinges;
- Inside and outside handle;
- Cylinders 5 keys;
- Wooden box packing;
- 90° fastening system with stainless steel handle - for a better stability and easy access to the cylinder lock!

Available options: 
- EAV3 motorized automatic lock with codetaster, fingerprint, Bluetooth;
- Inside and outside different handle models;
- House number, scratch protection, weather protection;
- Sidelights /skylights;
- Illumination with LED (white, blue or RGB) in glass (infinty mirror) and door threshold;
- Additional profiles;
- And other options only on demand, depending on the possibilities. Please contact us.
It is possible to make the height to a maximum of 2.5 meters. 
Delivery time: After receipt of payment and technical clarification, it takes about 20-30 working days to complete your order confirmation from Welthaus Haustur.