WeltHaus Window Prestige 92 Elegance Salamander BluEvolution 92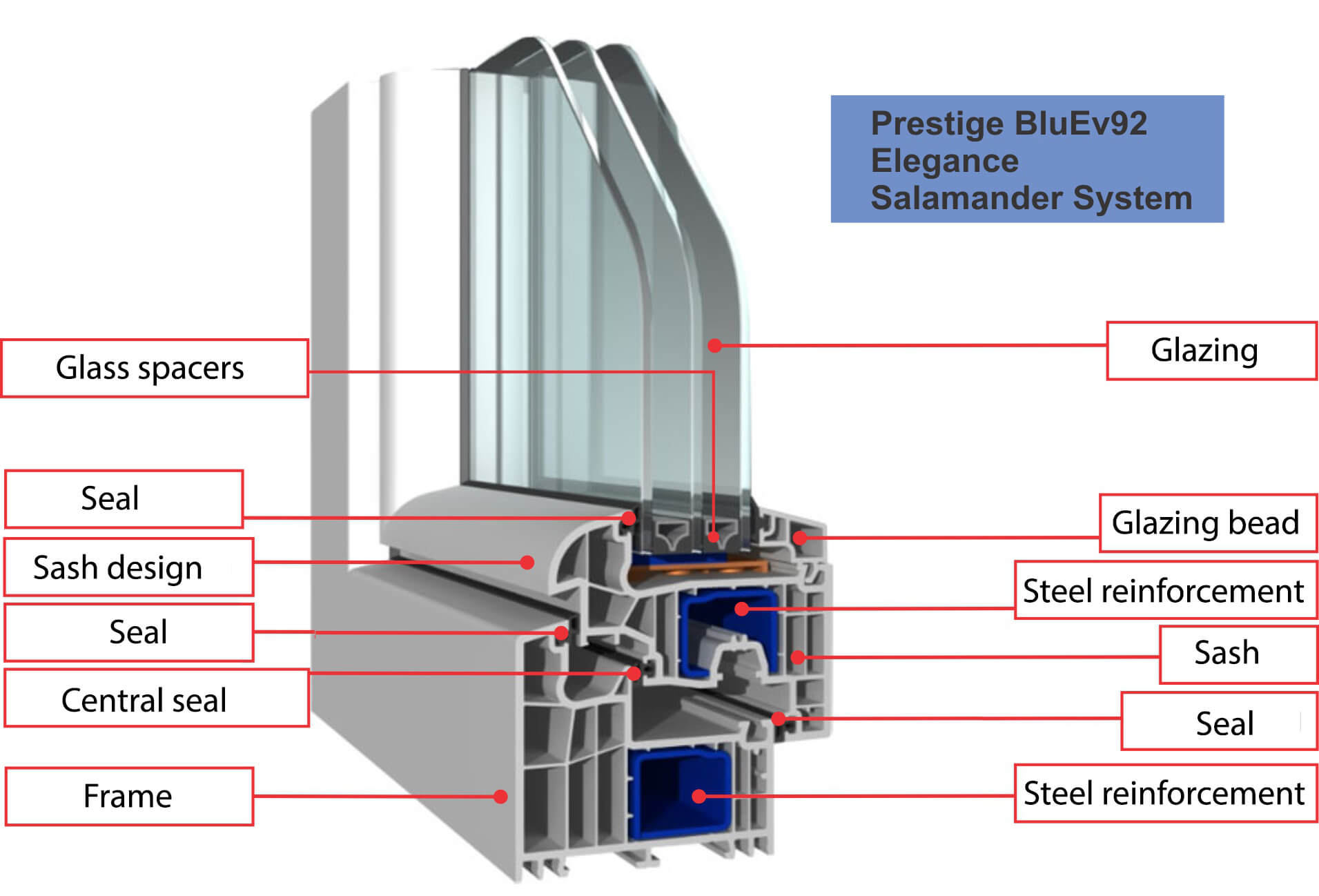 Glazing: triple glazing (52 mm)

Glass seal: The glass seal provides optimum protection against ingress of water

Sash design: The sash is designed in classic area-dislocated design

Glazing bead: Provides the necessary contact pressure between gaskets and glass

Sealing levels: The two sealing levels ensure good heat and sound insulation

Center seal: Center seal systems normally have only three seals, thereby further improving thermal insulation.

Steel reinforcement: The steel reinforcement provides a very good stability

Profile chambers: In order to achieve good thermal insulation, the profiles are divided into several chambers.
Additional burglary protection by security fitting
Winkhaus activPilot® is an innovative turn-tilt hardware system that is the market leader in stability, safety and functionality.
There are different safety classes: basic safety, BasisPlus and fitting RC2.
With the RAL quality mark and the production location Germany, you profit from solid fittings in high quality.
Special octagonal security locking pins provide burglary protection.They are also adjustable to regulate the contact pressure quickly and easily.
Individual protection

The modular frame part concept allows an individual level of safety.The high-quality solidity is also documented by the RAL quality mark for locks and fittings.Security levels can be adapted with little effort and can be upgraded to RC 2 (formerly WK 2), depending on the system.

High quality

The high quality level of the Winkhaus activPilot hardware is documented by the RAL service life test.It gives you the security of purchasing a long lasting quality product.

Energy conversation

The multi-gap ventilation allows different tilting widths of the wing and thus a fast, easily adjustable ventilation setting.This allows a permanent supply of fresh air without significant energy loss.This not only protects your health, but also your wallet.

Beautiful design

The appealing design of the stop elements gives windows that certain something and stands out from the average of mass-produced goods.
Basic safety RC1 

No requirements

Burglar resistance to RC1 N Tested safety to DIN EN 1627–1630 Rc1 N

Components of the RC1 N have a basic protection against attempts to break up with physical violence such as trampling, counter-jumping, shoulder-pushing, pushing up and tearing out (mainly vandalism).Components of the RC1 N have little protection against the use of lever tools.

Burglary resistance to RC2 / RC2N Tested safety for higher safety requirements according to DIN EN1627–1630 RC2/RC2N

The casual offender also tries to break open the locked and locked components with simple tools such as screwdrivers, pliers and wedges.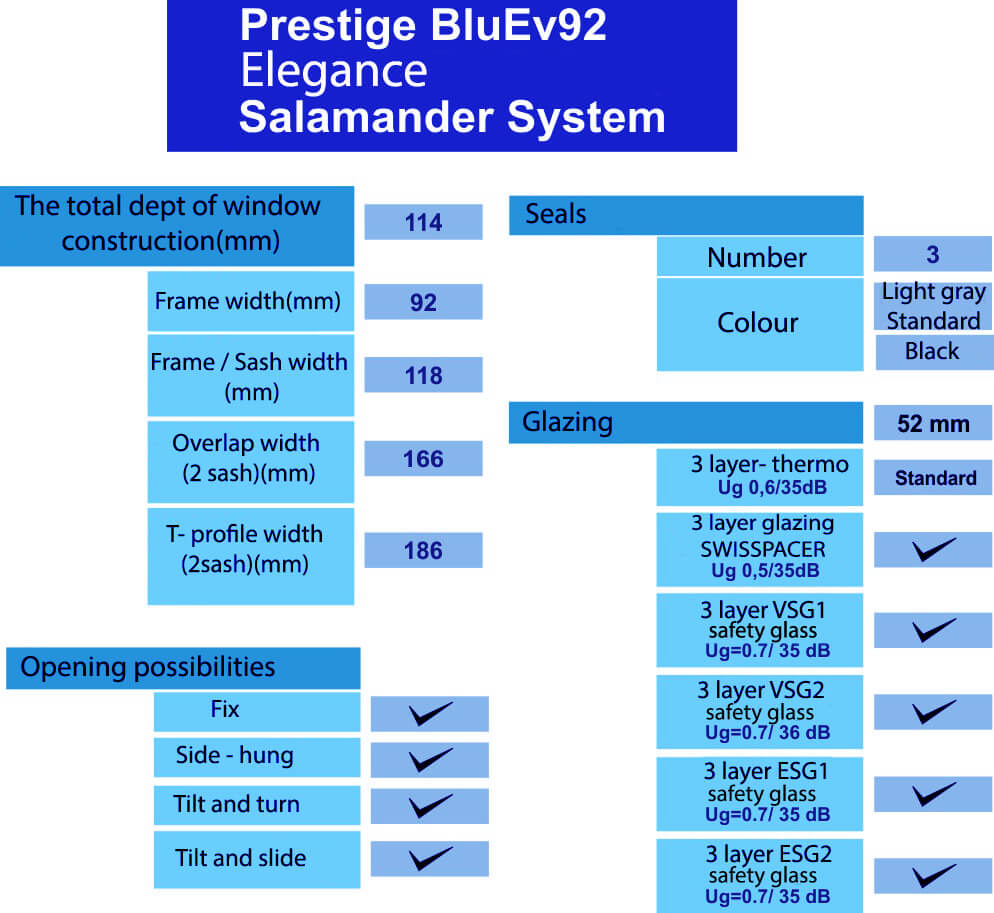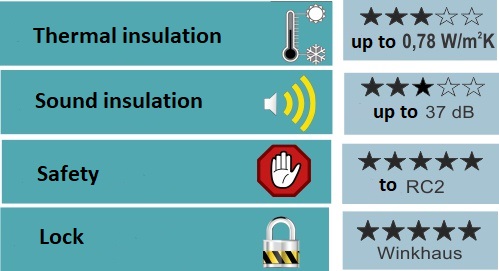 With a standard glazing, Prestige achieves a thermal insulation value of Uw = 0.82 W / m²K.
3 seals, either in black or gray available, provide for reliable protection against driving rain and high tightness.
92 mm depth allow enough space for the installation of special stiffening profiles that provide excellent stability.
The standard thermal insulation value is Uw = 0.82 W / m²K. With a top glazing, a value of Uw = 0.72 W / m²K can be achieved.
The colored design is possible with aluminum shell or decorative foil.
Due to the geometry of the profile, it achieves good thermal insulation and due to the massive construction, it achieves a very good stability
The Prestige profile system combines cutting-edge technology with modern, objective design to create a new generation of first-class windows.
The optimized 6-chamber construction with a construction depth of 92 mm and with three sealing levels ensures outstanding thermal protection and best energy efficiency.
Combined with a narrow face width of only 118 mm, solar gains through high incidence of light and the ecological sustainability of a 100% reusable plastic, Prestige is the window system of the future.
Protection against noise, burglary and driving rain - reassuring safety against noise, driving rain and burglary thanks to the high construction depth and the three sealing levels.
             

Materials used for calculation:

 

Designation Material Thermal conductivity (WmK)

 

PVC hard PVC 0.17
Steel mild steel 50
Sealing material EPDM 0.25
Glass 1 LowE 1.0 1
Glass 2 LowE 1.0 1
Glass 3 Float 1.0 1
Wall clinker 0.96
Exterior plaster anhydrite mortar 0.7
Plaster inside thin-bed mortar 1

Boundary conditions:

Assumed outside temperature: -5 ° C
Assumed internal temperature: 20 ° C

Illustrated isotherms:

-5 ° to 20 ° in 1 ° increments
10 ° - isotherm blue; 13 ° - isotherm red

Calculated temperatures / factors:

Minimum surface temperature Pi: 12.02 ° C
Temperature factor fRsi: 0.7